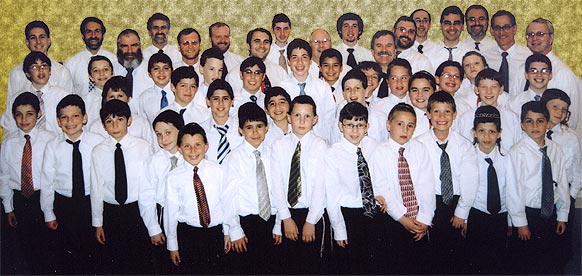 Click for more photos
The Jewish Music Heritage Project Boys' and Men's Choir is the only choir of its kind in the world today, and is dedicated to the performance and archival recording of Judaism's glorious repertoire of traditional choral synagogue music, today in great danger of being lost forever.
We are pleased to announce that auditions for the choir's second season are now open. Apply online, or download an application, or call 410-602-2101 for further information or to schedule an audition. The new choral season will commence in the fall, following the 2006 high holidays.
To recapture for posterity a major, yet vanishing cultural treasure and historical legacy, this choir will perform in many of the recordings to be produced. The choir performs live on selected occasions.
In centuries past, the choir was fundamental to prayer services in the synagogues of Eastern Europe. The Jewish Music Heritage Project is dedicated to the preservation and renewal of this vast treasury of synagogue music. Its preservation also perpetuates a central segment of the rich cultural history of the Jewish people in general, as well as that of Jewish life in pre-Holocaust Eastern Europe in particular. As a member of the JMHP Boys' and Men's Choir, you will be an active participant in safeguarding this important and vital part of Judaism's spiritual and artistic legacy for posterity.
Qualifications:
Prospective singers should be boys aged 8 and above, or adult men. Participants should want to be trained to sing at a professional level and:
Live in or near the Baltimore- Washington D.C. area to be available for Baltimore rehearsals.
Have a pleasant singing voice (regardless of previous professional training).
Be musically literate or be able to learn music readily, especially harmony parts, and to carry them independently.
Be capable of being inspired by traditional liturgical texts and their traditional musical intonation and interpretation.
Be responsible, devoted, and loyal to a program of the highest standards of choral singing.
Click Here to Apply Online
or Click Here to download a PDF application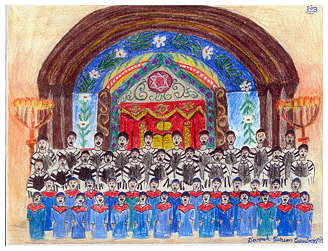 BENEFITS:
Benefits include the ability to perform and become part of a serious and major musical project of special and historic significance for which a large number of archival CD recordings will be produced. Also, enhancement of skills in proper vocal technique, music reading, expression, and music theory, as well as emphasis on Jewish history, language, and meaning of tefillot (prayers).